A.I. S.O. S.C.A.R.Y.
How to to work with A.I. tools TODAY and why TOMORROW should worry about itself (specifically THAT persistent worry about A.I. stealing our jobs)
"This is so good its scary! I'll give it three more years and we will be out of a job!"
I have heard this lament several times over the last year from my peers in creative jobs when they are confronted by the quality of work generated by AI tools like Midjourney and ChatGPT. 
I remember feeling the same way when a friend shared Jeff Han's Underwater Mcdonald's with me.
To curb my temptation to become a amateur futurist and take part in the fear-mongering, I needed to get my hands dirty.
I started to experiment with A.I. tools in my work. For a start, I wanted to answer the question: Can these tools make my work better?

Here are some of my learnings from three recent projects:
JOURNEY BY LORRY - Digital Painters on a Shoestring!
Last year, my friends at Journey By Lorry gave me an ambitious task. 
They had amassed a collection of 30-40 heartfelt poems from migrant workers in Singapore — all on the controversial theme of going to work on the backs of lorries. 
For the exhibition, they wanted each poem to be accompanied by a visual (a photograph, illustration, or digital artwork). 
I reached out to about 40 photographers, designers, and illustrators.

While I got immediate yesses and amazing contributions from folks like Joseph Nair, StudioJUJU, and Mark Cheong, it was tough filling the entire roster.
The lack of remuneration and the tight deadline were the leading reasons for the rejections. 
My solution: Midjourney + a class of curious senior-year journalism students. 
During a two-hour session, the students went from digesting the basics and controversies of the technology(Made easier thanks to Cleo Abram's explainer), to producing their first artworks using Midjourney's Discord-based tools(many of them were using Discord for the first time too). 
Two weeks after that session, their works were hanging at an exhibition next to artwork by artists much more established than they were. 
A friend of mine(prior to being told how the works were made) was amazed at the quality of the digital paintings made by a team of student journalists. 
Without Midjourney, I would have returned to the exhibition organisers with the disappointing news that we did not have adequate responses to their cause. 
Using the technology(and about $20 I paid for a subscription), we were not just able to fulfill an ambitious "order" of artwork, but we were able to elevate the skills of my students, whose primary skills were writing and photography, to digital painters who were able to participate in their first art exhibition. 
I'M FINE  - Telling Unphotographable stories
Back in 2021, Helene Tian and Sylvia Quek, two students in my Advanced Photojournalism class wanted to work on a portrait series about digital addiction amongst young people. 
As the issue wasn't just occurring in the physical realm, they felt that photographic portraits of their profiles will not be adequate in the telling of these stories. 
Using @somewheresy's open-source jupyter notebook, they created a blend between their photographs and images created by a text-to-image prompt. 
The result was a unique, otherworldly take on a very-present mental health issue.
Note: This was a time before Midjourney and OpenAi's Open Beta. So the images definitely have a less-refined, more "glitchy" vibe to it (which will undoubtedly be an art trend in 2046!)
AI ART NEWS - a meta-conversation about evolving technology and a changing world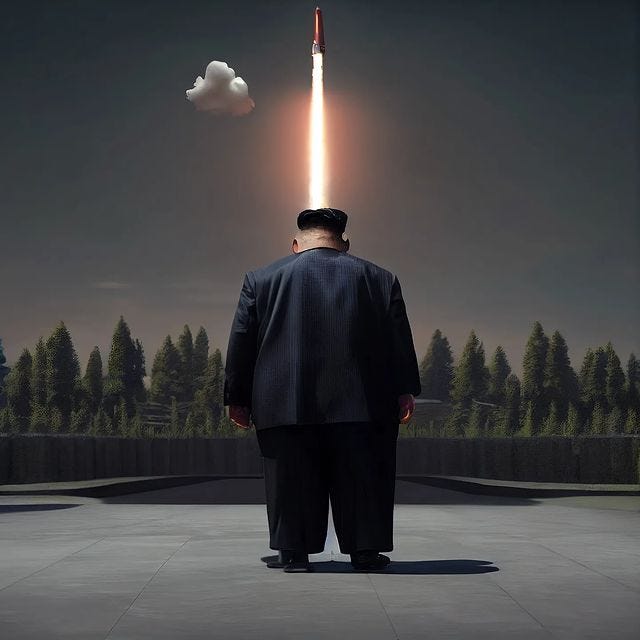 Lim Wui Liang has been prolific in creating independent work like the very delightful @bridgeppl project. 
His current brainchild is @aiartnews, an Instagram account dedicated to his Midjourney interpretations of world events. 
My only claim to participation in this awesome endeavor is one measly contribution that responded to this NYTimes story about how there are 2.5 million ants for every living human.
The ease and speed of Midjourney's engine has allowed Wui Liang, who has a day job, to consistently create images for the project.
He has even had to answer difficult ethical questions about whether his interpretation of a school massacre was too insensitive. (His final choice was subtler, less gory artwork).  
I hope he continues to find the motivation to plug away at the project because this has the potential to become a landmark experiment, especially if we can see the quality and fidelity of the artwork change over time. 
From my observation, that daily grind of practicing different text prompts to produce a good-enough-to-post visual has made him an early master of this nascent craft of "text-prompt engineering". 
Thanks for reading! Subscribe for free to receive new posts and support my work. And if you're so inclined, visit my website for more of me!